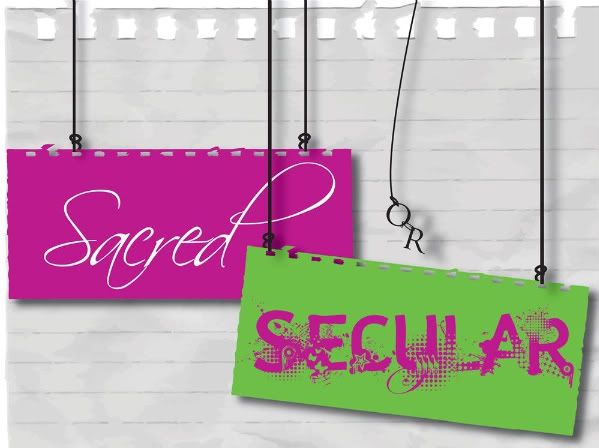 Secularity derives from a Latin word meaning "of the age". The Christian doctrine that God exists outside time led medieval Western culture to use secular to indicate separation from specifically religious affairs and involvement in temporal ones. For instance, eating and bathing may be regarded as examples of secular activities, because there may not be anything inherently religious about them.

I got the above from Wikipedia. I typed in the word secular and this is what came up. It is very interesting. There has for long been a divide when it comes to music, especially in the community of black folks between secular and gospel. I think it comes from an improper understanding.

Most people who are fervent in their faith take secular to always mean the same thing as carnal, worldly, fleshly, immoral and sinful activity. This is not true because for example most of the congregation have secular jobs. If you apply the thinking of what secular has been defined as then the whole congregation is secular all week except Sunday (or anytime they're in church engaging in spiritual activity) this is faulty thinking with partial understanding and it has bothered me.

I have found out that some people cannot conceive of a Christian just being an artist. Some folks feel if a Christian is artistically gifted (music just being one of the many artistic expressions that exist) then they must exclusively create gospel music. They see music as primarily as evangelical ministry or praise and worship. I think this is so because they believe that secular has to be immoral or carnal but not all "secular" activity is that.

Most Christians can accept professions such as being an accountant, a medical doctor, lawyer, a banker but the moment someone says they're a professional musician it becomes a problem especially if they're not professional musicians working in the gospel music industry solely. God forbid they be a session singer or an instrumentalist or movie score creator or a music teacher in a school that is not teaching gospel songs. God forbid they be like Kim Burrell who has been known as a gospel artist but now is someone about to create an inspirational/secular album. You will be automatically judged and marginalized even before they've heard any song on the project by some folks. It will be said of you, that you're doing it for the money and to glorify self. I mean really? How do they know your intentions all of a sudden? So her doing that means she is renouncing Christianity? Does that mean she's abandoning her moral compass and promoting immorality? I need to get this album and check it!

On the other hand concerning Kim Burrell, it probably could be said that she is switching things up in order to sell more units. I have not really been a fan of her music except for her first album "Everlasting Life" which was excellent. The other ones after that were just not for me. What can I say? To each their own. Only God truly knows her intentions. If her new album is bangin'with wholesome content, then hey it's all good to me as a lover of music.

I think there is an idea that God frowns on all "secular" music. If this was the case then surely the book "Song of Solomon" would have not been left in the bible. The book is purely about the love between a man and a woman. It is not like the book of Psalms which is exclusively a book of songs of praise and worship with God being the focus. In Song of Solomon God is not even mentioned once, the lovers focus on each other. It is a book of romantic love lyrics and as much as people spiritualize it and say its about God's love for his people and a foreshadow of Christ and the church (which also is a way you can read that book and actually should) it is STILL a romantic song book and that's great! I don't think God frowns on that! So if Kim Burrell for example does music in that vein about love, why would it be frowned on if she keeps it wholesome and tasteful? What's wrong with doing music that is not exclusively evangelical or Praise and worship? What's wrong with inspirational and positive music? Yes God frowns on the carnal, immoral, sinfulness and worldliness of this age but surely creating art with wholesome and tasteful content is good right? Doesn't that glorify God? I think there is a place for all kinds of artistic expression. Am I wrong for thinking this way?

As for secular, the truth is we all engage in secular activity and secular does not mean the same thing as carnal, worldly and sinful. Secular just means any activity that is not exclusively religious. Eating an apple is secular; being an accountant is a secular job, being a medical doctor is a secular profession. We all eat, drink and sleep and since those activities are not exclusively religious they can be described secular, so I guess we're all secular then everyday. LOL. The fact is though you might not be OF the world; you are still IN the world.

I think what we would be ideal is embracing a worldview that looks at the big picture. Our lives in this world is a whole thing and not separated in these little independent departments. When you believe in the gospel and you have a relationship with God it affects your WHOLE life so I don't see why my art shouldn't reflect my whole experience of living in this world. I think there lies the challenge. It is allowing God into all the little departments of our lives and having them transformed and affected forever whether they are secular or spiritual "departments". God wants to make us whole. Do you WANT to be whole?