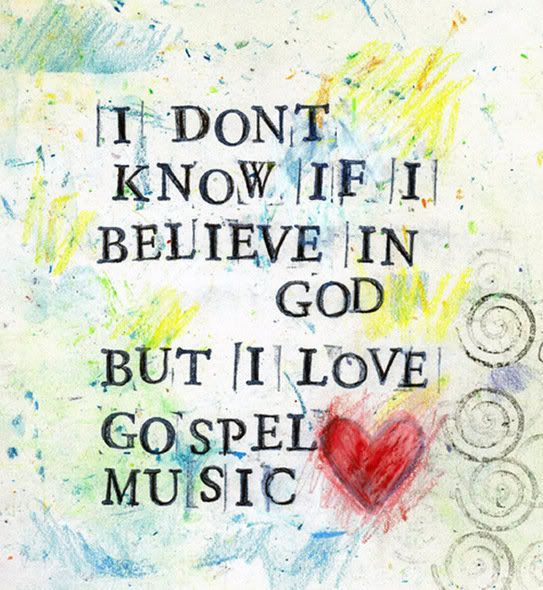 Ok before I go on go to this link and read some comments about gospel music from some folks:

http://www.answerbag.com/q_view/180974 (copy and paste it into your browser. I don't know how to make it a link GRRRRRRRRR!!!)

I bet you're scratching your head right now. LOL

I wrote the blog below a little while back (actually in '08) and it has taken me until now to write a follow up to it which I have exclusively given to ukgospel.com. So to prepare yourselves for that piece re-acquaint yourself this one:


Gospel Music Vs Gospel Message intro: The Ironies of Gospel Music


People say it is ministry and not entertainment but it IS entertaining (notice I said entertaining NOT entertainment though to some there aint any difference really)

It is the only genre of music defined by its message NOT it's sound (though some people still define it by its sound but what IS it's sound? a choir singing maybe? can somebody tell me? I heard of T-Pain taking a song by Kirk Franklin "Silver and Gold" and sampling it to make a song which is not a gospel song)

It is the only music where people feel it should only be exclusively sung but people who "live" its message (but really WHO is walking EXACTLY like JESUS? and isn't the gospel message meant for EVERYONE? Is the gospel message inclusive or exclusive? Is Gods love and grace exclusive to some or for all?)

It is said to be a tool of "spreading the word" yet people have to pay to get it. (Isn't that like paying for "the word"? Well I guess because they are paying for the MUSIC)

The gospel message calls for repentance but how many times have you seen people repenting when hearing a gospel track? (I'm not saying it hasn't happened before I mean I have SEEN it happen before!)

It is the only music where it is said to be all about the Man behind the message a.k.a Jesus yet you have your favourite band or singer (whether you like to admit it or not and that is like having your favourite preacher that is if you look at it as ministry not just music. Personally I don't think having your favourite band is wrong because to me music is music. I just think it is ironic! LOL!)

Gospel music is mainly purchased by people who ALREADY believe in the gospel yet we say it is meant for those who don't believe it's message (the truth is whether you believe or not you need the gospel message ALL the time)

No matter how explicit the message is, if it has a dancy beat and is played in a club people can still groove to it and actually ignore the words. (I know some people DON'T like that but hey Jesus turned water into wine at a wedding party so maybe that aint too bad! LOL!)

Christians sometimes expect gospel music to do what they are meant to do: Preach the word and be holy and pure.

Christians steal gospel music from Christian artists (Rip tracks off their myspace pages using software that can actually do that even if you have not given it away as a free download) and freely burn CDs. (Thou shalt not steal anybody? Yep I've been guilty too! forgive me Lawd! LOL!)

Some "gospel purists" get mad when Christians do urban variations of gospel music but if you ask them what gospel music is right to listen to they would probably point you in the direction of a genre of gospel music that is still a derivative of one of the "secular" genres of music that might not be Urban but is based on a "secular" sound

Purists who listen to gospel music don't like to admit that what they listen to has been influenced in sound (in sound, musically! I repeat MUSICALLY! LOL!) by a genre of music that by their definition is actually "worldly" in origin.

The truth is everything you hear that is gospel music has a multitude of musical influences and unless Jesus has a myspace page AND an album coming out in December there is no MUSICALLY PURE gospel music that has no outside musical influence in the world today. (If there is can someone show me? I would buy 10 copies right now)

Gospel Music = Black, Christian Contemporary music = White. This is equivalent to like Hip Hop = Black and Rock = White. This is what the general view is out there. Real Talk.

Inspite of all these ironies (and many more I am sure you can mention) I LOVE the message of the gospel and I love gospel music! (though I might not like all the music out and that is down to my personal taste not that it isn't good!)

The way I view gospel music is like a movie and a soundtrack. The music is the soundtrack you hear while the movie plays. The movie is actually YOU living out your faith on a day to day. I think music is placed on a higher pedestal than it is meant to be placed. That's just my personal opinion. I will talk about gospel message vs gospel music soon.......